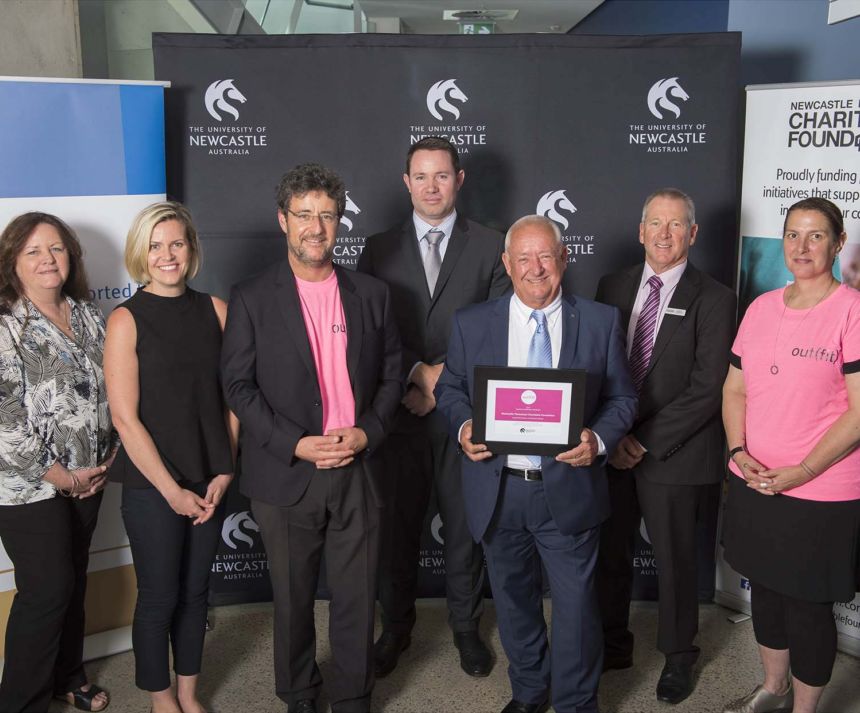 The University of Newcastle (UON) has facilitated a much-needed renovation of play equipment at a local women's refuge, helping to transform the outdoor space at Jenny's Place into a safe area that mothers and their children can enjoy together.
Marcia Chapman - Jenny's Place, Sarah Kiely - Port of Newcastle, Steven Weller - UON, Graham Batten, Phil Neat and David Shanley - Newcastle Permanent, Professor SueAnne Ware - UON/out(fit) Jenny's Place is a service that provides crisis accommodation and support to women and children who are escaping domestic violence or who are at risk of being homeless.
Made possible through generous grants provided by the Newcastle Permanent Charitable Foundation, Port of Newcastle and the NSW Community Building Partnership, volunteers from UON's out(fit) program rolled up their sleeves and converted the courtyard into a space featuring new play equipment and a seating area for mothers.
Led by UON's Head of School for Architecture and Built Environment, Professor SueAnne Ware, out(fit) is a volunteer collective of female built environment professionals who use their skills to provide services within the community.
"It was a privilege to work on this project and we are thrilled to have provided Jenny's Place with a space where women and children accessing the service can spend quality time together," Professor Ware said.
More than 100 volunteers, including staff from the Newcastle Permanent, came together over several working bees to reinvent the outdoor space that had previously been underutilised.
Newcastle Permanent Charitable Foundation chairman, Phil Neat, said they were proud to support out(fit) in the makeover of Jenny's Place and provide children with access to high quality facilities to hopefully ease some of the trauma caused by domestic violence.
"Domestic violence is a significant issue in our community and, whilst we must act to prevent domestic violence, it is also vitally important that women and their children escaping violence have access to safe, comfortable facilities when they need it most," Mr Neat said.
Port of Newcastle's Chief Executive Officer, Geoff Crowe, said it was great to see the community come together in support of Jenny's Place.
"The team at Jenny's Place provide invaluable support for vulnerable women and children in our community and I am proud Port of Newcastle was able to assist," Mr Crowe said.
Jenny's Place said the area gives everyone a space out in the fresh air to connect and support each other through some of the toughest times in their lives.
An event was held on Monday 16 October to celebrate the completion of the outdoor space.